The item illustrated and described below is sold, but we have another example in stock. To view the example which is currently being offered for sale, click the "View Details" button below.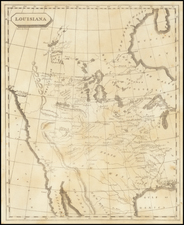 1804 Aaron Arrowsmith & Samuel Lewis
$750.00
Description
One of the earliest obtainable maps to depict the Louisiana Purchase and certainly one of the most interesting. Engraved by Henry Schenk Tanner, the map is one of Tanner's earliest works and a forerunner to many of the most important maps of the Transmissisippi West. The map is the offspring of Antoine Soulard's map of the west, which was created at the request of the Spanish Governor of Louisiana, then based in St. Louis, who had requested an up to date map of the Missouri and Mississippi River Basins. An English copy of the Soulard map was one of the most important maps taken by Lewis & Clark on their overland trek to the Pacific. The cartography of the region west of the Mississippi is described by Wheat in his Mapping the Transmississippi West over 5 pages, noting all of the firsts and important features. Certainly this was the best widely circulated map of the region prior to the explorations of Lewis & Clark. Lewis and Soulard incorporate the maps of John Evans, James Mackay, Jacques d'Eglise and Jean Baptiste Truteau, each of which existed only in manuscript form. As Wheat states, until Lewis and Clark's own map appeared in print in 1814, the Soulard map, in the version offered to the public by Arrowsmith & Lewis in 18094, constituted the most ambitious, and --despite its many obvious infirmities--the most informative published attempt to portray the West and Northwest of what is now the United States. An essential map of the American West. Wheat 259.
Aaron Arrowsmith Biography
Aaron Arrowsmith (1750-1823) was born in Durham in 1750. He came to London for work around 1770, where he found employment as a surveyor for the city's mapmakers. By 1790, he had set up his own shop which specialized in general charts. Arrowsmith's three shops were located on or near Soho Square, a neighborhood the led him to rub shoulders with the likes of Joseph Banks, the naturalist, and Matthew Flinders, the hydrographer. Through his business ties and employment at the HO, Arrowsmith made other important relationships with Alexander Dalrymple, the HBC, and other companies. In 1810 he became Hydrographer to the Prince of Wales and, in 1820, Hydrographer to the King. He died in 1823, whereby the business passed to his sons, Aaron and Samuel, and, later, his nephew, John.