The item illustrated and described below is sold, but we have another example in stock. To view the example which is currently being offered for sale, click the "View Details" button below.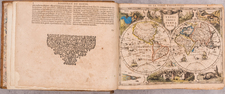 1630 Jodocus Hondius & Gerard Mercator
$ 24,000.00
Description
Unrecorded Variant Issue.
A very attractive example of the extremely rare updated and expanded 1676 edition of one of the greatest miniature atlases of the 17th century, the Mercator-Hondius Atlas Minor, published by Johannes Janssonium van Waesberge in Amsterdam in 1676.
Late History of the Mercator-Hondius Miniature Atlas
In 1630 Johannes Cloppenburg reworked and enlarged the Mercator-Hondius Atlas Minor with a set of newly engraved maps; two other editions followed in 1632 and 1636. In 1673 the plates appeared again, this time published by Johannes Janssonius's son-in-law, Johannes Janssonius van Waesberge who expanded the run to 183 maps. 1676 saw another Janssonius van Waesberge issue, lengthened yet again to include 207 maps, as seen here. This unrecorded variant, with the date 1676 changed on the engraved Latin title, is probably a predecessor edition of the atlas that came out before the Dutch title was finished.
Comparing the 1673 and 1676 Editions
The 1676 atlas is almost comprehensively revised from the 1673; not only has the complement of maps expanded by 24, but many of the maps from the earlier edition have been substantially revised or changed out for new plates. One of the most consistent changes between the editions is the removal of the characteristic jagged-line seas from most of the maps.
The following maps were added or comprehensively revised in the 1676 edition. Where a new map obviously replaces an existing map, we have tried to make note of it:
Poli Antarctici Cum Terris Circumjacentibus Descriptio.
Peru
Insula Ceylan Olim Taprobana; nunc incolis Lankawn (replacing Ceilan)
Andaluzia Continens Sevissam et Cordubam
Candia Vulgo Creta (updating Candia, probably the same plate but substantially revised)
Sicilia (replacing Siciliae Regnum)
Corsica | Sardinia (replacing the same)
Terra Hydrunty sive Otranto
Terra Bariensis et Basilicata
Calabria Citra et, Ultra
Comitatus Molisy et Capitaneata
Aprutium Citra et Ultra
Terra Laboris
Neapolitanum Regnum
Umbria Perugino
Urbini Ducatus
Marchia Anconitana
Dominium Venetum
Tridentii Principtus
Mediolanensis Ducatus (replacing the same)
Brescia et Bergamo
Patrimonium S. Petri cum Territorio Romano. (replacing Latium)
Ferrara Romagna Bologna
Mantuae Mutinae et Regi Ducato.
Ecclesiasticum Dominium
Genvense Territorium
Magnus Etruriae Ducatus
Parmae et Placentiae Ducatus
Verona, Vincenza
Histria
Forum Iuly et Trivigliano
Pedemontii Princip: et Montisferrati Ducat.
Italia (replacing the same)
Irlandiae Regnum (substantially updating the same)
Irlandiae Regnum [southern Ireland] (substantially updating the same)
Warwicum, Northhamtonia, Huntingdonia... (substantially updating the same)
Eboracum, Lincolnia, Derbia, Staffordia... (substantially updating the same)
Cornubia : Devonia, Somersetus... (substantially updating the same)
Descriptio Nova Tirolis Comitatus (updating Tarvisina Marchia et Tirolis Comitatus)
Nova Tabula Valesiae Vulgo Wallisserland cum Consiniis
Bovrdelois, pais de Medoc et la prevoste... (substantially updating the same)
Bretania et Normandia cum consiniis (substantially updating the same)
Zeelandiae Comitatus (substantially updating the same)
Belgii Foederati Nova descriptio Amstelodami Apud Joh: Janssonium a Waesberge.
Nova Tabula Karstiae, Carniolae, Istriae, et Windorum Marchiae
Marchia Nova; Vulgo New Marck
Marchia Vetus et Media Vulgo Alt und Mittes Marck.
Pomeraniae Ducatus (decorative elements comprehensively updated)
Selandia in Regno Daniae.
Islandia (decorative elements comprehensively updated)
Descriptio Ukraniae Sive Palatinatuum Podoliae Kioviensis et Braczlaviensis
Novissima Russiae Tabula
Nova et Accurata Poli Arctici et Terrarum Circum Jacentium Descriptio.
Many minor changes have been made to other plates.
The themes of the revision of the 1676 include the addition of two polar maps, a massive update to the Italian content, with more minor updates to British Isles, French, and German maps, and additions of a map of Peru, and some very rare Eastern European maps, among others. Furthermore, as alluded to earlier, the decorative style has shifted toward what one might expect from Dutch maps of the 1670s, with more figurative cartouches and decorative elements like ships in the sea, and fewer generalized stylistic devices like the jagged oceans.
Rarity
RBH records only one example of the 1673 edition appearing at auction (Parke Bernet 1966). No other copies of the present 1676 can be located, either at auction or in institutional collections. This variant edition was unrecorded by Koeman.
Provenance
Signed "Joshua & Lucia Knashoi" on title;
Swann, July 9, 2020, lot 254
Condition Description
Oblong quarto. Contemporary vellum. Engraved allegorical title-page, [ii] pages, and 207 engraved maps. (Parts of the blank margins of the first two leaves expertly extended; minor marginal dampstain affecting the blank margins at the back of the book - not touching the platemarks; second flyleaf supplied; each map numbered in pencil at upper right.) Overall VG to VG+
Reference
See Rumsey 11487, for the 1673 edition with 183 maps; Koeman II Me 206 (described with a Dutch title and index not found here).
Gerard Mercator Biography
Gerard Mercator is one of the most famous cartographers of all time. Mercator was born in Flanders and educated at the Catholic University in Leuven. After his graduation in 1532, Mercator worked with Gemma Frisius, a prominent mathematician, and Gaspar a Myrica, a goldsmith and engraver. Together, these men produced globes and scientific instruments, allowing Mercator to hone his skills.
With his wife, Barbara, Mercator had six children: Arnold, Emerentia, Dorothes, Bartholomeus, Rumold, and Catharina. In 1552, Mercator moved to Duisburg from Leuven, where he lived for the rest of his life. In 1564, he was appointed the official cosmographer to the court of Duke Wilhelm of Cleve.
Mercator's most important contribution was the creation and popularization of a projection which now bears his name. On Mercator projection maps, all parallels and meridians are drawn at right angles to each other, with the distance between the parallels extending towards the poles. This allowed for accurate latitude and longitude calculation and also allowed navigational routes to be drawn using straight lines, a huge advantage for sailors as this allowed them to plot courses without constant recourse to adjusting compass readings.
Mercator's other enduring contribution to cartography is the term "atlas", which was first used to describe his collection of maps gathered in one volume. The Mercator atlas was published in 1595, a year after Mercator's death, thanks to the work of his sons, particularly Rumold, and his grandsons.