The item illustrated and described below is sold, but we have another example in stock. To view the example which is currently being offered for sale, click the "View Details" button below.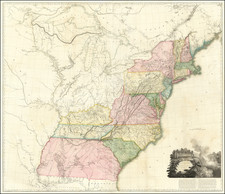 1796 (circa 1804) Aaron Arrowsmith
$ 12,500.00
Description
One of the Maps Consulted By Lewis & Clark
Fine full color example of Aaron Arrowsmith's landmark map of the United States, which includes substantial cartographic updates from the first edition.
A tremendous 4 sheet map, uncut and laid on original linen, and illustrating in great detail the extent of the United States as known immediately prior to Lewis & Clark's explorations to the west. The interior detail of the trans-Mississippi west was compiled largely from accounts supplied by Native Americans to Arrowsmith, by the Hudson's Bay Company. The course of the Missouri River delineated on the map prompted Lewis and Clark to plot their course along the Missouri River, as it appeared to be the most direct route to the Pacific.
Includes a massive Georgia Territory extending to the Mississippi River, pre-dating the creation of Mississippi Territory. Also shown is a very early appearance of Michigan Territory, which had been created in June 1805, and Ohio, founded March 1803.
Embellished with a large engraved vignette of Niagara Falls with descriptive tex describing the falls.
Offered here is the edition following Arrowsmith's move to No. 10 Soho Square, in 1802. It is edition of the map that is often referred to as the Lewis & Clark edition, as it was one of the maps which they consulted prior to embarking on the landmark transcontinental trip.
Condition Description
Four sheets, unjoined. Each sheet dissected and laid on linen, as published. Offsetting near cartouche and several other places. Minor soiling.
Reference
Stevens & Tree 79(e).
Aaron Arrowsmith Biography
The Arrowsmiths were a cartographic dynasty which operated from the late-eighteenth century to the mid-nineteenth. The family business was founded by Aaron Arrowsmith (1750-1823), who was renowned for carefully prepared and meticulously updated maps, globes, and charts. He created many maps that covered multiple sheets and which were massive in total size. His spare yet exacting style was recognized around the world and mapmakers from other countries, especially the young country of the United States, sought his maps and charts as exemplars for their own work.
Aaron Arrowsmith was born in County Durham in 1750. He came to London for work around 1770, where he found employment as a surveyor for the city's mapmakers. By 1790, he had set up his own shop which specialized in general charts. Arrowsmith had five premises in his career, most of which were located on or near Soho Square, a neighborhood the led him to rub shoulders with the likes of Joseph Banks, the naturalist, and Matthew Flinders, the hydrographer.
Through his business ties and employment at the Hydrographic Office, Arrowsmith made other important relationships with Alexander Dalrymple, the Hudson's Bay Company, and others entities. In 1810 he became Hydrographer to the Prince of Wales and, in 1820, Hydrographer to the King.
Aaron Arrowsmith died in 1823, whereby the business and title of Hydrographer to the King passed to his sons, Aaron and Samuel, and, later, his nephew, John. Aaron Jr. (1802-1854) was a founder member of the Royal Geographical Society (RGS) and left the family business in 1832; instead, he enrolled at Oxford to study to become a minister. Samuel (1805-1839) joined Aaron as a partner in the business and they traded together until Aaron left for the ministry. Samuel died at age 34 in 1839; his brother presided over his funeral. The remaining stock and copper plates were bought at auction by John Arrowsmith, their cousin.
John (1790-1873) operated his own independent business after his uncle, Aaron Arrowsmith Sr., died. After 1839, John moved into the Soho premises of his uncle and cousins. John enjoyed considerable recognition in the geography and exploration community. Like Aaron Jr., John was a founder member of the RGS and would serve as its unofficial cartographer for 43 years. Several geographical features in Australia and Canada are named after him. He carried the title Hydrographer to Queen Victoria. He died in 1873 and the majority of his stock was eventually bought by Edward Stanford, who co-founded Stanford's map shop, which is still open in Covent Garden, London today.