The item illustrated and described below is sold, but we have another example in stock. To view the example which is currently being offered for sale, click the "View Details" button below.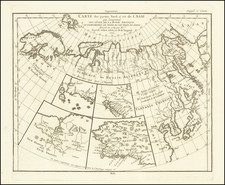 1772 Denis Diderot / Didier Robert de Vaugondy
$ 145.00
Description
Marvelous depiction of the Northeast Passage, from Norway and Spitsberg Island to the Straits of Anian and Cape Schalaginskoy north of Kamschatka, covering the NE Coast of Asia to south of Japan and Korea.
The primary focus of the map is Asiatic Russia, but the 4 insets of are particular note, being derived by De Vaugondy primarily from the maps of Wytfliet, published in his seminal American Atlas in 1597. Depicted are Anian Regnum (the first, although completely conjectural, separate depiction of what is loosely Alaska and the Canadian Northwest), the Conibas region, which essentially shows the NW Passage and has loosely been described as the first map of the Great Lakes Region, an interesting cross section of Wytfliet's California map focusing on the region from the Gulf of California North to the mythical headwaters of the Gila and Colorado Rivers, and a fictional amalgam of the California Coastline from the same map, with an odd Japan and I de Plata added west of the region covered by Wytfliet.
A fascinating group from Diderot's 10 map supplement to his Encylopedia, one of the earliest examples of contemporary comparative cartography which is obtainable by collectors.
Didier Robert de Vaugondy Biography
Didier Robert de Vaugondy (ca. 1723-1786) was the son of prominent geographer Gilles Robert de Vaugondy and Didier carried on his father's impressive work. Together, they published their best-known work, the Atlas Universel (1757). The atlas took fifteen years to create and was released in a folio and ¾ folio edition; both are rare and highly sought-after today. Together and individually, father and son were known for their exactitude and depth of research.
Like his father, Didier served as geographer to King Louis XV. He was especially recognized for his skills in globe making; for example, a pair of his globes made for the Marquise de Pompadour are today in the collection of the Municipal Museum of Chartres. Didier was also the geographer to the Duke of Lorraine. In 1773, he was appointed royal censor in charge of monitoring the information published in geography texts, navigational tracts, and travel accounts.