The item illustrated and described below is sold, but we have another example in stock. To view the example which is currently being offered for sale, click the "View Details" button below.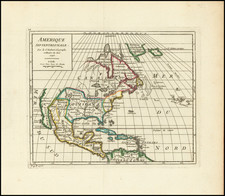 1748 Gilles Robert de Vaugondy
$ 245.00
Description
Interesting mid 18th Century map of North America, published by Robert De Vaugondy.
The map shows Quivira, Nouvelle Albion, P. de Drake, etc., on the West Coast of North America, which extends North to C. Blanc and shows the inland river.
A number of western Indian Tribes are named. Floride is shown along the Texas coastline. The Mississippi River is moved considerably west of its correct location. The Great Lakes are shown in a still primitive fashion.
The Florida Peninsula takes on a curious shape. A number of place names along the Rio Grande and in the Southwest.
Condition Description
Old hand-color in full.
Gilles Robert de Vaugondy Biography
Gilles Robert de Vaugondy (1688-1766) and Didier Robert de Vaugondy (1723-1786) were influential figures in the realm of 18th-century French cartography. Originating from Paris, their contributions to mapmaking were significant during an era of expansive geographical exploration.
Gilles Robert de Vaugondy entered the world of cartography not through family tradition but through personal interest and the budding opportunities of his time. Born in 1688, he worked during a time when Paris was becoming a central hub for cartographic activities. Gilles often incorporated the latest findings from explorers into his maps, making them sought-after for their contemporary relevance. His connections weren't limited to his immediate circle; he frequently interacted with other key mapmakers, staying updated on the latest techniques and findings.
His son, Didier, was born in 1723 and had the advantage of growing up surrounded by maps and globes. While his father was renowned for maps, Didier made a name for himself in the field of globemaking. His globes were some of the most precise and detailed in France, gaining recognition even among the royalty. In addition to his work in cartography and globemaking, Didier had a keen interest in education, especially after the expulsion of the Jesuits from France. He stepped in to produce geographical educational materials, fulfilling a newfound need.
The maps and globes produced by the Vaugondys remain an enduring testament to the peak of French cartography during the Enlightenment. Their works, characterized by precision and the inclusion of contemporary findings, helped to shape our understanding of the world during a transformative period in European history.