The item illustrated and described below is sold, but we have another example in stock. To view the example which is currently being offered for sale, click the "View Details" button below.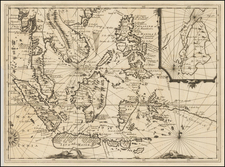 1725 Réne Augustin Constantin De Renneville
$ 1,800.00
Description
The Philippines and Southeast Asia from an Important Early Traveller
Nice example of Joris van Spilbergen's rare map of the Philippines and Southeast Asia, published in Amsterdam in 1619.
Centered on Borneo and the Philippines, the illustrates the state of Dutch knowledge of the region at an early period in the history of Dutch trading to the region. Java Major is shown at the bottom of the map, with Sumatra the Straits of Malacca, Malaysia, Thailand and Indo China meticulously illustrated, with the map extending north to the area near Macao and Hong Kong.
The map includes a large inset of Botton Island and the Strait of Botton. Pulau Buton, located just southeast of Sulawesi or the Celebes Island, is separated from Pulau Muna (Camboyna) by the Strait of Buton. The island was described in detail by Willem Cornelisz Schouten (with whom Spilbergen sailed back to Europe), who wrote "Here is a map of the Molucca and Botton Isles, which I, Jean Cornelisz de Moye, have drawn with all possible accuracy, during the various voyages I have made there, over all in the Straits of Botton".
Joris van Spilbergen
Joris van Spilbergen (1568-1620) sailed from Texel in August 1614 with 800 men aboard six ships. Although his voyage was sponsored by the VOC, with a merchant aboard each ship, this was a privateering voyage. Landing first in Brazil, the fleet went on to sail through the Straits of Magellan and into the Pacific. Travelling up the coast of South America towards Acapulco, Spilbergen raided Spanish settlements along the way. One of his biggest his prizes was a pearl fishing vessel the San Francisco captured at Zacatula, just North of Acapulco
Crossing the Pacific to the Mariana Islands and then Philippine Islands, Spilbergen continued to harass Spanish ships, netting a considerable amount of prize money before arriving in Batavia in September 1616. Transferring to the Amsterdam for the voyage home via the Cape of Good Hope, Spilbergen was accompanied by Le Maire and Schouten who had been tried for infringing the VOC's monopoly.
Condition Description
Restoration along right and left sides of the map Neatline expertly reinstated at right side. Neatline and a portion of the compass rose expertly reinstated on the left side.