The item illustrated and described below is sold, but we have another example in stock. To view the example which is currently being offered for sale, click the "View Details" button below.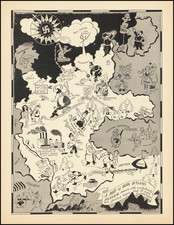 1938 Richard Q. Yardley
$245.00
Description
Provocative anti-fascist satirical map, drawn by Richard Q. Yardley, who is perhaps better known for his whimsical pictorial maps of Baltimore and Maryland.
The map presents a not so subtle anti-Nazi image of Germany and its neighbors.
As noted on the Cornell University website description for this map:
This 1938 satirical map Ken Magazine attacks Hitler and the growing threat of Nazi Germany. Cartoon figures throughout the country show a few humorous developments ("factory devoted exclusively to making medals for Goering") and many that ominously foreshadow what was to come, including propaganda, "big book burning festival," "happy labor - no strikes," "to the Ukraine," and "concentration camps."
Ken was a controversial anti-fascist magazine, first published in April 1938. It was distinguished by unusual and powerful graphics like this one and a number of articles on the Spanish Civil War by Ernest Hemingway. The magazine failed in August 1939 as a result of wariness by advertisers and a boycott by the Catholic Church. Baptista 2009, 109-115.
Richard Q. Yardley
Richard Quincy Yardley (1903-1979) was an American editorial cartoonist.
Born in Baltimore, Maryland on March 11, 1903, Yardley attended the Friends School and the Maryland Institute. Yardley started as an artist-retoucher in the news department at the Baltimore Evening Sun in 1923 and moved into creating local news and commentary cartoons in 1934, for the Morning Sun.
In 1949, he became the Sun's editorial cartoonist after Edmund Duffy's retirement. From 1961 until 1965, Yardley also drew the daily comic strip panel, Our Ancestors, which was syndicated by the Newspaper Enterprise Association. In addition to these works, his cartoons appeared in the New Yorker and the Reporter. Yardley was a member of the National Cartoonists Society, the American Association of Editorial Cartoonists and the National Press Club.
Reference
https://digital.library.cornell.edu/catalog/ss:19343256