The item illustrated and described below is sold, but we have another example in stock. To view the example which is currently being offered for sale, click the "View Details" button below.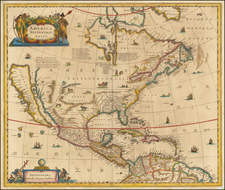 1641 circa Henricus Hondius / Jan Jansson
$3,900.00
Description
The Single Most Influential Map in Establishing the Legend of California as an Island
Striking example of Jansson's map of North America, called by Burden the single most influential map in perpetuating the myth of California as an Island.
The map is a well-researched amalgam of the best cartographic resources available. In the West. Jannson draws heavily upon Briggs 1625 map of North America. An unnamed lake still feeds the Rio de Norto (Rio Grande), which is incorrectly shown flowing southwest into the Sea of Cortez. The Gulf of Mexico and Florida are based upon Hessel Gerritsz's map of 1631. The east coast draws from a number of sources. Jamestown is shown. Novum Belgium is unlike prior maps between the Delaware and Hudson, being greatly elongated. New Amsterdam is not shown, but Ft. Orange is located. The place names in New England are based upon John Smith's map of 1616. The Gulf of St. Lawrence appears to follow De Laet. The map is richly illustrated with ships, sea monsters and animals in the interior parts of North America.
The present example is state 2 of the map, including Jansson's name on the map for the first time.
An essential map for collectors of North America and California, being the first atlas map to show North America only, the first widely disseminated map of California as an island and a host of other important features.
Reference
Burden 245, McLaughlin 6, Wheat 45, Goss, 30, Tooley 28.
Henricus Hondius Biography
Henricus Hondius (1597-1651) was a Dutch engraver and mapmaker, a member of a prominent cartographic family. His father, Jodocus Hondius, was also an engraver and geographer. While working with his father, Henricus was instrumental in the expansion and republishing of Mercator's atlas, first published in 1595 and republished by Hondius in 1606.
Upon his father's death in 1612, Henricus and his brother, Jodocus the Younger, took over the business. He set up his own shop in 1621, where he continued to release new editions of the Mercator atlas. Later, he partnered with his brother-in-law, Jan Janssonius, in continuing to expand and publish Mercator's atlas, which would become known as the Mercator-Hondius-Janssonius atlas. Born and based in Amsterdam, he died there in 1651.
Jan Jansson Biography
Jan Janssonius (also known as Johann or Jan Jansson or Janszoon) (1588-1664) was a renowned geographer and publisher of the seventeenth century, when the Dutch dominated map publishing in Europe. Born in Arnhem, Jan was first exposed to the trade via his father, who was also a bookseller and publisher. In 1612, Jan married the daughter of Jodocus Hondius, who was also a prominent mapmaker and seller. Jonssonius' first maps date from 1616.
In the 1630s, Janssonius worked with his brother-in-law, Henricus Hondius. Their most successful venture was to reissue the Mercator-Hondius atlas. Jodocus Hondius had acquired the plates to the Mercator atlas, first published in 1595, and added 36 additional maps. After Hondius died in 1612, Henricus took over publication; Janssonius joined the venture in 1633. Eventually, the atlas was renamed the Atlas Novus and then the Atlas Major, by which time it had expanded to eleven volumes. Janssonius is also well known for his volume of English county maps, published in 1646.
Janssonius died in Amsterdam in 1664. His son-in-law, Johannes van Waesbergen, took over his business. Eventually, many of Janssonius' plates were sold to Gerard Valck and Pieter Schenk, who added their names and continued to reissue the maps.