The item illustrated and described below is sold, but we have another example in stock. To view the example which is currently being offered for sale, click the "View Details" button below.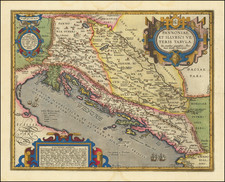 1590 Abraham Ortelius
$ 975.00
Description
Fascinating example of a rare John Overton "forgery" of Abraham Ortelius' map of the ancient regions ofPannoniae and Illyrici, which was separately published by Overton in about 1677.
This is one of a small group of maps , including the British Isles, Iberia, France, Italy, Germany and the Ancient Empire of Alexander the Great, are piracies, entirely re-engraved by John Overton. With these 'pseudo-Ortelius' maps, Overton sought to ride on the Ortelius' incomparable century-old brand. John Overton's Catalogue for the Easter Term of 1677, licensed May 28th The Catalogue includes
A Collection of Mapps of the antient Geography, made by the best and most approved Geographers. Each Mapp in a large Imperial Sheet of Paper, viz. Europe, Asia, Africa, Germany, Spain, France, Italy, Greece, Roman Empire, Alexander's Expeditions, S. Pauls's Travels, Egypt, etc ...sold by John Overton at the White Horse, without Newgate."
Overton's pseudo-Ortelius maps are extreme rarities. We first learned of their existence when we discovered a group of six such maps in a composite atlas by Overton, which in now in the collection of the British Library (sold by this firm to the British Library in 2013). At the time, we located a small group of these maps at the Bodleian Library. The British Library has since also located 2 examples of these Overton / Ortelius forgeries in the King's Collection and we are aware of one such map bound into the famous Custis Atlas, now in the collection of Colonial Williamsburg (the map of Celtic Europe).
The present example, purchased at auction in August 2016, is the first example of the map we have ever seen on the market, other than the aforementioned Overton Atlas. This is apparently the only surviving example of this map, as it was not in the Overton atlas or the Bodleian collection.
Condition Description
Fold Split and other minor paper breaks, supported on verso by 3 contemporary maps and several text sections, pasted to the map at an early date.
Reference
Van Den Broecke 203.
Abraham Ortelius Biography
Abraham Ortelius is perhaps the best known and most frequently collected of all sixteenth-century mapmakers. Ortelius started his career as a map colorist. In 1547 he entered the Antwerp guild of St Luke as afsetter van Karten. His early career was as a business man, and most of his journeys before 1560, were for commercial purposes. In 1560, while traveling with Gerard Mercator to Trier, Lorraine, and Poitiers, he seems to have been attracted, largely by Mercator's influence, towards a career as a scientific geographer. From that point forward, he devoted himself to the compilation of his Theatrum Orbis Terrarum (Theatre of the World), which would become the first modern atlas.
In 1564 he completed his "mappemonde", an eight-sheet map of the world. The only extant copy of this great map is in the library of the University of Basel. Ortelius also published a map of Egypt in 1565, a plan of Brittenburg Castle on the coast of the Netherlands, and a map of Asia, prior to 1570.
On May 20, 1570, Ortelius' Theatrum Orbis Terrarum first appeared in an edition of 70 maps. By the time of his death in 1598, a total of 25 editions were published including editions in Latin, Italian, German, French, and Dutch. Later editions would also be issued in Spanish and English by Ortelius' successors, Vrients and Plantin, the former adding a number of maps to the atlas, the final edition of which was issued in 1612. Most of the maps in Ortelius' Theatrum were drawn from the works of a number of other mapmakers from around the world; a list of 87 authors is given by Ortelius himself
In 1573, Ortelius published seventeen supplementary maps under the title of Additamentum Theatri Orbis Terrarum. In 1575 he was appointed geographer to the king of Spain, Philip II, on the recommendation of Arias Montanus, who vouched for his orthodoxy (his family, as early as 1535, had fallen under suspicion of Protestantism). In 1578 he laid the basis of a critical treatment of ancient geography with his Synonymia geographica (issued by the Plantin press at Antwerp and republished as Thesaurus geographicus in 1596). In 1584 he issued his Nomenclator Ptolemaicus, a Parergon (a series of maps illustrating ancient history, sacred and secular). Late in life, he also aided Welser in his edition of the Peutinger Table (1598).
John Overton Biography
The Overton family was a prominent part of the printing, and mapmaking, industry in London in the seventeenth and eighteenth centuries. John Overton (1639/40-1713) was the son of a tailor who apprenticed to Stationer Thomas Gould. He was made free of the Stationers' Company in 1663. Two years later, London was struck by the Great Plague of 1665-6. Peter Stent, a leading printseller, succumbed and Overton took over his shop. This burned in the Great Fire of 1666, but Overton had rebuilt by 1669, when he advertised his wares from the White Horse on Snow Hill. Overton specialized in prints, portraits, and especially maps and topographical views.
John was likely married three times and had seven children. His eldest, Thomas, emigrated to America. His second oldest, Henry, was executor of John's will when the latter died in 1713. Henry (1675/6-1751) acquired his father's stock in 1707 and ran the shop until his own death in 1751. He published many maps, most focusing on the British Isles. His shop and stock passed to his nephew, another Henry, son of John's fourth son, James.
Henry the Elder's brother, Philip (ca. 1681-1745), was also a printer and mapmaker. Philip served as his father's apprentice and was made free of the Stationers' in 1702. His father set him up in the trade in 1707 and by 1710 he was working from the sign of the Golden Buck in Fleet Street. Philip specialized in fine arts prints, including Hogarth's Hudibras set (1726), but he also sold many maps. At his death in 1745 he left his shop to his widow, Mary. She ran the shop and then married James Sayer, whose brother, Robert, became Mary's assistant. He took over the business in 1748 and became a famous purveyor of maps, charts, and views.
Back at the sign of the White Horse, Henry the Younger continued the family business, expanding their stock to include a large collection of landscape views. He often partnered with Robert Sayer. He continued in business until at least 1764, when he drops out of the historical record.