The item illustrated and described below is sold, but we have another example in stock. To view the example which is currently being offered for sale, click the "View Details" button below.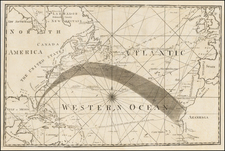 1802 American Philosophical Society / Benjamin Jones
$1,800.00
Description
Important early American chart illustrating the Gulf Stream, engraved by Benjamin Jones in Philadelphia and published by the American Philosophical Society.
This chart illustrates an early model of the Gulf Stream from the Gulf of Florida north to the Grand Bank then curving southeast to the Senegal coast of Africa which is labeled "Azanhaga." Arrows mark the direction of the stream, with the winds shown from northeast to southwest and an annotation noting the "usual course from Britain to the West Indies, Carolina and Virginia for sake of the Trade Winds" south of the stream and "course from Britain to St. John in Newfoundland" north of the stream.
The map is based on a Pownall chart published by Robert Sayer in his West India Pilot in 1787. It was copied by John Thompson in his New General Atlas of 1827, wherein Thompson credits Pownall.
Mapping the Gulf Stream
The Gulf Stream is one of the most important natural phenomenon affecting navigators in the Atlantic Ocean. First named by Benjamin Franklin, the Gulf Stream is a high speed river within the ocean, flowing from the Gulf of Mexico, around the southern tip of Florida and along the East Coast of North America to Cape Hatteras, before turning eastward across the Atlantic Ocean, where it continues to Iceland, the British Isles and Norway. In the Straits of Florida, the Gulf Stream is about 40 miles wide and flows at about 5 miles per hour. In the Atlantic, it is over 100 miles wide and flows at about 3 miles per hour.
The first chart to record the Gulf Stream based on Benjamin Franklin's discoveries was Mount & Page's A New and Exact Chart on Mr. E. Wrights projection and Mercators Chart Con~ ye Sea Coast of Europe, Africa, & America, from ye Isle of Orkney to Cape Bona Esperance & Hudsons Bay to ye Straits of Magellan. The Mount & Page chart is known in only three examples.
Benjamin Jones
Benjamin Jones was an engraver in Philadelphia active between 1778 and 1815. According to an announcement in a local newspaper, Jones was married to Miss Alice Howard Hall. And he was apparently still living in 1833.
The American Philosophical Society was formed in Philadelphia in 1769. Its mission was "the promoting of useful Knowledge in general, and such branches thereof in particular, as may be more immediately serviceable to the British Colonies." It met regularly to hear papers submitted by its members and others and in 1771 published the first volume of its Transactions.