The item illustrated and described below is sold, but we have another example in stock. To view the example which is currently being offered for sale, click the "View Details" button below.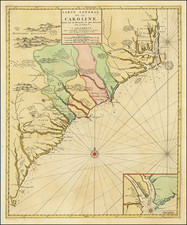 1696 Pierre Mortier
$ 4,500.00
Description
French Edition of An Important Early Map of the Carolinas
Final state of Mortier's map of the Carolinas, one of the most detailed and up to date maps of the period.
Mortier's map is based upon Thornton, Morden & Lea's virtually unobtainable map of the region, first published in 1685. Cumming observed that the two maps are identical to the smallest geographical detail and provides the most complete and up to date view of the Carolinas available at the end of the 17th century. The original counties are named, and numerous estates and plantations are identified.
The map includes an inset of Charleston, founded in 1669.
Mortier's map is of the earliest obtainable maps of the region to reflect any significant settlement. Extends from Albermarle County to south of the Savannah River. Curiously, there is also a large "Charles Ville ou Charles Town" shown next to Cape Fear, a reference to a short-lived settlement established a few years prior to Charleston and abandoned a few years later. Please see http://www.carolana.com/NC/Towns/Charles_Town_NC.html for a more detailed history.
Carolina was established in 1663 when Charles II granted the province to eight favorites, known as the Lord Proprietors, who had helped him regain the throne of England. The original grant included the territory between the 31st degree to 36 1/2 degrees north latitude, from Jekyll Island, Georgia, to Currituck Inlet, North Carolina. Two years later, the tract was enlarged to include the land between the 29th and the 31st degree north latitude, thus adding a large portion of Florida. The grant extended west to the Pacific Ocean ( Degrees of Latitude, p.93).
Carolina was divided into two separate colonies in 1712, and South Carolina received its royal charter in 1729.
States
First state: Pierre Mortier imprint.
Second state: Pierre Mortier imprint with plate number in lower right.
Third state: Covens & Mortier imprint with plate number in lower right.
Condition Description
Trimmed to neatline and expertly remargined. Minor restorations at lower corners, just affecting printed image. Loss of image in lower right corner reinstated without the plate number.
Reference
Burden II 787, second state (but 3rd); Cumming 120.
Johannes Covens Biography
Johannes Covens (1697-1774) was a Dutch geographic publisher based in Amsterdam. He is best known for his collaboration with fellow publisher Cornelis Mortier (1699-1783). Pierre Mortier the Elder (1661-1711) had obtained a privilege in 1690 to distribute the works of French geographers in the Netherlands. After his widow continued the business for several years, Cornelis took over in 1719.
In 1721, Mortier forged a partnership with Covens, who had recently married Cornelis' sister. They published under the joint name of Covens & Mortier. In 1774, upon the death of his father, Johannes Covens II (1722-1794) took over his father's share. In 1778, the company changed its name to J. Covens & Zoon, or J. Covens & son.
Covens II's son, Cornelis (1764-1825), later inherited the business and brought Petrus Mortier IV back into the fold. Petrus was the great-grandson of Petrus Mortier I. From 1794, the business was called Mortier, Covens & Zoon, or Mortier, Covens, & Son.
The business specialized in publishing French geographers including Deslisle, Jaillot, and Sanson. They also published atlases, for example a 1725 reissue of Frederik de Wit's Atlas Major and an atlas, with additions, from the works of Guillaume Delisle. There were also Covens & Mortier pocket atlases and town atlases. The company profited from acquiring plates from other geographers as well. For example, the purchased Pieter van der Aa's plates in 1730. Finally, they also compiled a few maps in house. At their height, they had the largest collection of geographic prints ever assembled in Amsterdam.
Pierre Mortier Biography
Pierre, or Pieter, Mortier (1661-1711) was a Dutch engraver, son of a French refugee. He was born in Leiden. In 1690 he was granted a privilege to publish French maps in Dutch lands. In 1693 he released the first and accompanying volume of the Neptune Francois. The third followed in 1700. His son, Cornelis (1699-1783), would partner with Johannes Covens I, creating one of the most important map publishing companies of the eighteenth century.