The item illustrated and described below is sold, but we have another example in stock. To view the example which is currently being offered for sale, click the "View Details" button below.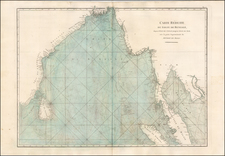 1775 Jean-Baptiste Nicolas Denis d'Après de Mannevillette
$ 475.00
Description
Fine sea chart from Mannevillette's Le Neptune Oriental, first published in 1775.
Important early sea chart showing the coastlines of India, Ceylan, Thailand, Malaysia, Sumatra, Cambodia and Vietnam.
Jean Baptiste Nicolas Denis D'Apres de Mannevillette (1707-1780) was born in Le Havre to a nautical family. Mannevillette would go on to have a long and distinguished career as a navigator and one of the first French hydrographers. After studying mathematics in Paris, he gained early seafaring experience to the Caribbean at the age of 19.
He spent the majority of his career as a naval officer in Asia, where he assembled a collection of material for a projected hydrographic atlas which, with the support of the Academie des Sciences, was published in Paris in 1745 under the title Le Neptune Oriental. Thereafter, Mannevillete spent nearly thirty years, often with the assistance of his friend, Alexander Dalrymple, the English hydrographer, in the preparation of a revised and enlarged edition which eventually was issued in 1775.
Jean-Baptiste Nicolas Denis d'Après de Mannevillette Biography
Jean-Baptiste Nicolas Denis d'Après de Mannevillette (1707-1780) was a French sailor and hydrographer celebrated for his excellently-rendered charts. Mannevillette was born into a maritime family and he joined his father on a French East India Company voyage to India aged only twelve. A clever boy, he returned to France to study navigation, chartmaking, and mathematics with Joseph-Nicolas De L'Isle. At nineteen, he was back at sea, working his way up the ranks of the French East India Company's merchant fleet.
In his work with the company—he was eventually promoted captain—Mannevillette sailed to the Indian Ocean many times. En route, he was constantly gathering and correcting hydrographic knowledge. He was also skilled at using the latest navigational instruments, like the octant and later the sextant, which allowed him to make his charts especially accurate for their time. He compiled his work into his most significant publication, Le Neptune Oriental, which was commissioned by the French East India Company and first published in 1745. It was released in an expanded second edition in 1775, with posthumous expansions in 1781 and 1797.
The Neptune earned Mannevillette many accolades. The company made him Director of Charts at Lorient in 1762. In 1767, King Louis XV gave him the Order of St. Michael and named him an associate of the Royal Marine Academy.