The item illustrated and described below is sold, but we have another example in stock. To view the example which is currently being offered for sale, click the "View Details" button below.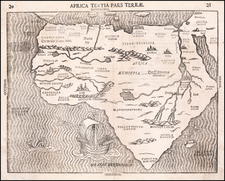 1581 Heinrich Bunting
$ 1,200.00
Description
Fine Map of the African Continent, Based on the First Modern Map of Africa
Nice example of Heinrich Bunting's scarce map of Africa, from his Itinerarium Sacræ Scripturæ. It is based on the first modern map of Africa, which featured in Sebastian Münster's Geographia (1540) and Cosmographia (1544).
The map shows the entire continent along with the Sinai Peninsula, part of the Arabian Peninsula, and the southern edge of the Iberian Peninsula. Several large cities are marked with clusters of European-style buildings, including church steeples. Rolling mountain ranges break up the interior, along with massive rivers.
The largest of these is of course the Nile River. It flows from the southern interior of the continent to the north. Following the Ptolemaic model that was also used in Münster's earlier map, the Nile originates in the Montes Lunae, or the Mountains of the Moon. Bunting also locates Prester John's kingdom near the Mountains of the Moon.
One of the most distinct toponyms is Elephantophagi, near what is today the Congo. This refers to a tribe discussed by Strabo and Pliny who supposedly hunted and ate elephants and traded their hides and tusks across Africa.
At sea, the water is engraved in aesthetically pleasing zig-zag lines. A large ship is joined by a merman and a swan.
Reference
Wulf Bodenstein, Exploring Africa with Ancient Maps (Brussels: Royal Museum for Central Africa, 2017); Norwich 17; not listed in Tooley. KAP
Heinrich Bunting Biography
Henrich Bunting was a Protestant theologian and teacher born in Hanover, in what is now Germany. He attended the University of Wittenberg and graduated in 1569. He then began work as a preacher but caused some controversy with his teachings; he was dismissed from appointments in both Lemgo and Goslar.
He is best known today for his book, Itinerarium Sacrae Scripturae (Travel book through Holy Scripture), a travel collection and commentary of the geography of the Bible. The book provided the most complete summary of biblical geography then available and described the Holy Land by following the travels of various notable people from the Old and New Testaments. First published in Madgeburg in 1581, Itinerarium Sacrae Scripturae was a very popular book for the time. Over 60 editions were published between 1581 and 1757.
A particularly notable feature of the book were its many woodcut maps, many of them showing unique depictions of geographic features and continents. In addition to the conventional maps, the book also contained three figurative maps; the world depicted using a cloverleaf design (thought to possibly represent the Trinity with Jerusalem in the center), Europe in the form of a crowned and robed woman, and Asia as the winged horse Pegasus.