The item illustrated and described below is sold, but we have another example in stock. To view the example which is currently being offered for sale, click the "View Details" button below.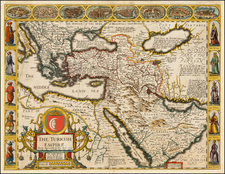 1626 John Speed
$3,200.00
Description
Boldy colored example of the rare Roger Rea edition of Speed's map of the Turkish Empire.
One of the most decorative maps of Turkey issued in the 17th Century and the first map of the region published in England. Includes 8 views of Turkish Cities and 10 costumed figures.
This edition of the map bears the imprint of Roger Rea the Elder and Younger. The Reas had purchased the rights to Speed's work from William Garrett in 1659, who had previously purchased them from the widow of William Humble in the same year. Skelton suggests that the father and son intended a new edition of the atlas for the Restoration, of 1660. However, the atlas would appear not to have been published until 1665. This is borne out by an advertisement in the Term Catalogue by the subsequent owners of the plates, Thomas Bassett and Richard Chiswell, in 1675:
"Mr John Speed's... Geography of the Kingdoms of England, Scotland, and Ireland... together with his Prospect... all in one entire Volume, hath been, for seven Years past, out of Print, the greatest part of an Impression, then newly Printed, being destroyed by the late dreadful Fire, 1666". This is borne out by the rarity of the Rea edition of the atlas. There is evidence that they planned an edition of 1666, as there are impressions of Sussex, Buckingham and Derby, with Rea's imprint, which bear that date. Rea would later sell the plates to Bassett and Chiswell, who would publish a new edition in 1676.
The map bears the following imprint:
Are to be sold by Roger Rea the Elder and younger at the Golden Crosse in Cornhill against the Exchange.
John Speed Biography
John Speed (1551 or '52 - 28 July 1629) was the best known English mapmaker of the Stuart period. Speed came to mapmaking late in life, producing his first maps in the 1590s and entering the trade in earnest when he was almost 60 years old.
John Speed's fame, which continues to this day, lies with two atlases, The Theatre of the Empire of Great Britaine (first published 1612), and the Prospect of the Most Famous Parts of the World (1627). While The Theatre ... started as solely a county atlas, it grew into an impressive world atlas with the inclusion of the Prospect in 1627. The plates for the atlas passed through many hands in the 17th century, and the book finally reached its apotheosis in 1676 when it was published by Thomas Bassett and Richard Chiswell, with a number of important maps added for the first time.