The item illustrated and described below is sold, but we have another example in stock. To view the example which is currently being offered for sale, click the "View Details" button below.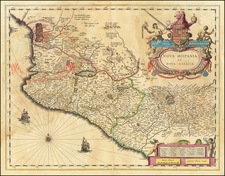 1635 Willem Janszoon Blaeu
$ 475.00
Description
A gorgeous map of western Mexico, centered on Guadalajara and showing Mexico City, and originally appearing in the 1662 edition of Blaeu's Atlas Maior. The map is a finely decorated example of maps produced during the golden age of Dutch cartography and represents an area of keen interest to Europeans for its agricultural and mining output produced by the slave-based encomendero system.
The map extends inland to the Sierra Madres and Mexico City, northwards to central Nayarit, and southwards to the State of Guerrero. Cities shown include Compostela, Guadalajara, Mechoacanguarag (appearing to be Aguascalientes), Colima, Cuernavaca, and, of course, Mexico City. Lake Texcoco is still shown, with many islands and more. Near Mexico City, a volcano is erupting.
The map has a number of attractive decorative elements. It includes a fabulous armorial title cartouche, sailing ships, a compass rose, and a second, smaller cartouche that provides a legend for place names near larger cities. Armadillos and cherubs adorn this cartouche, while the main cartouche shows the coats of arms of Hapsburg Spain, a lion holding the royal symbols of a sword and globe, and several indigenous figures with local fauna.
Notes abound through the map, with central Mexico being labeled a "Terra incognita." Hints of references are made to the local populations, and tall mountains are noted.
This map originally appeared in Blaeu's Atlas Maior, a twelve-volume atlas. This represents the largest collection of maps ever printed together using copper-plate engravings. The map is an essential piece for any collection of maps of Mexico.
Condition Description
Nice original hand-color. Wide margins. Minor color offsetting.
Willem Janszoon Blaeu Biography
Willem Janszoon Blaeu (1571-1638) was a prominent Dutch geographer and publisher. Born the son of a herring merchant, Blaeu chose not fish but mathematics and astronomy for his focus. He studied with the famous Danish astronomer Tycho Brahe, with whom he honed his instrument and globe making skills. Blaeu set up shop in Amsterdam, where he sold instruments and globes, published maps, and edited the works of intellectuals like Descartes and Hugo Grotius. In 1635, he released his atlas, Theatrum Orbis Terrarum, sive, Atlas novus.
Willem died in 1638. He had two sons, Cornelis (1610-1648) and Joan (1596-1673). Joan trained as a lawyer, but joined his father's business rather than practice. After his father's death, the brothers took over their father's shop and Joan took on his work as hydrographer to the Dutch East India Company. Later in life, Joan would modify and greatly expand his father's Atlas novus, eventually releasing his masterpiece, the Atlas maior, between 1662 and 1672.