The item illustrated and described below is sold, but we have another example in stock. To view the example which is currently being offered for sale, click the "View Details" button below.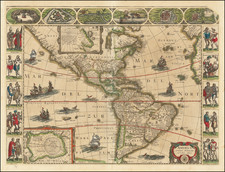 1632 Jan Jansson
$5,600.00
Description
Rare panelled map of America from Piere D'Avity's Les Etats, Empires Royaumes…du Monde, published in Paris in 1659 , which includes 3 views of North American towns across the top of the map .
The first derivative of the map was issued separately by Hondius in 1618 and is known in only 3 examples. This derivative is based upon the second state of Janssonius' map of 1623, as modified by Picart in 1644, although this example is from a still later plate.
While at first blush the map appears similar to Blaeu's map, this map includes views of North America, including the Poeiock Village in North Carolina & views of Carolina and St. Augustine. The penninsular California is retained, with the extended Northwest Coast including definitive place names north of 40 degrees. The East Coast of North America is rich with Indian names. The polar region inset is derived from Blaeu's wall map of 1608, as are the towns illustrated along the top.
All states of this map are very rare. Burden #333 lists this map as being by an anonymous engraver, due to the many differences between this map and the 1644 Picart. Only the second time we have handled this map in nearly 20 years.
Condition Description
Trimmed to the plate mark, with new margins added. The map as been cleaned and flattened, with archival reinforcment to thin spots on verso.
Jodocus Hondius Biography
Jodocus Hondius the Elder (1563-1612), or Joost de Hondt, was one of the most prominent geographers and engravers of his time. His work did much to establish Amsterdam as the center of cartographic publishing in the seventeenth century. Born in Wakken but raised in Ghent, the young Jodocus worked as an engraver, instrument maker, and globe maker.
Hondius moved to London in 1584, fleeing religious persecution in Flanders. There, he worked for Richard Hakluyt and Edward Wright, among others. Hondius also engraved the globe gores for Emery Molyneux's pair of globes in 1592; Wright plotted the coastlines. His engraving and nautical painting skills introduced him to an elite group of geographic knowledge seekers and producers, including the navigators Drake, Thomas Cavendish, and Walter Raleigh, as well as engravers like Theodor De Bry and Augustine Ryther. This network gave Hondius access to manuscript charts and descriptions which he then translated into engraved maps.
In 1593 Hondius returned to Amsterdam, where he lived for the rest of his life. Hondius worked in partnership with Cornelis Claesz, a publisher, and maintained his ties to contacts in Europe and England. For example, from 1605 to 1610, Hondius engraved the plates for John Speed's Theatre of the Empire of Great Britaine.
One of Hondius' most successful commercial ventures was the reprinting of Mercator's atlas. When he acquired the Mercator plates, he added 36 maps, many engraved by him, and released the atlas under Mercator's name, helping to solidify Mercator's reputation posthumously. Hondius died in 1612, at only 48 years of age, after which time his son of the same name and another son, Henricus, took over the business, including the reissuing of the Mercator atlas. After 1633, Hondius the Elder's son-in-law, Johannes Janssonius, was also listed as a co-publisher for the atlas.