The item illustrated and described below is sold, but we have another example in stock. To view the example which is currently being offered for sale, click the "View Details" button below.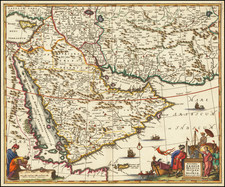 1680 circa Jacob Meurs
$795.00
Description
Rare map of Saudi Arabia, the Red Sea, Persia, Cyprus and the Holy Land, from Vander Aa's rare Galerie Agreable du Monde.
The present example is a fine dark impression with unusually wide margins.
Condition Description
Massive wide margins.
Covens & Mortier Biography
Covens & Mortier was one of the largest and most successful publishing firms in Dutch history and continued in business for over a century. Pierre Mortier the Elder (1661-1711) had obtained a privilege in 1690 to distribute the works of French geographers in the Netherlands. After his widow continued the business for several years, Cornelis (1699-1783) took over in 1719.
In 1721, Mortier forged a partnership with Johannes Covens (1697-1774), who had recently married Cornelis' sister. They published under the joint name of Covens & Mortier. In 1774, upon the death of his father, Johannes Covens II (1722-1794) took over his father's share. In 1778, the company changed its name to J. Covens & Zoon, or J. Covens & Son.
Covens II's son, Cornelis (1764-1825), later inherited the business and brought Petrus Mortier IV back into the fold. Petrus was the great-grandson of Petrus Mortier I. From 1794, the business was called Mortier, Covens & Zoon, or Mortier, Covens, & Son.
The business specialized in publishing French geographers including Deslisle, Jaillot, Janssonius, and Sanson. They also published atlases, for example a 1725 reissue of Frederik de Wit's Atlas Major and an atlas, with additions, from the works of Guillaume Delisle. There were also Covens & Mortier pocket atlases and town atlases. The company profited from acquiring plates from other geographers as well. For example, the purchased Pieter van der Aa's plates in 1730. Finally, they also compiled a few maps in house. At their height, they had the largest collection of geographic prints ever assembled in Amsterdam.
Pieter van der Aa Biography
Pieter van der Aa (1659-1733) was a Dutch mapmaker and publisher who printed pirated editions of foreign bestsellers and illustrated books, but is best known for his voluminous output of maps and atlases. Van der Aa was born to a German stonecutter from Holstein. Interestingly, all three van der Aa sons came to be involved in the printing business. Hildebrand was a copper engraver and Boudewyn was a printer.