The item illustrated and described below is sold, but we have another example in stock. To view the example which is currently being offered for sale, click the "View Details" button below.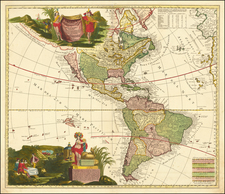 1709 Adam Friedrich Zurner
$ 1,400.00
Description
Striking map of America, showing California as an island, publsiehd by Zurner and engraved by Pieter Schenk.
Zurner's map is a fascinating compilation of up to date information and cartographic myths. The main body of North America reflects corrected information, including De L'Isle's treatment of the Mississippi River Valley and the Rio Grande River properly flowing into the Gulf of Mexico. In depicting California as an Island, Zurner uses the Second Sanson model, but makes the Northeastern part of the Island very tentative in nature, clearly aware that other map makers have abandoned the myth of the island of California.
The map also shows a massive Terra Esonis Incognita, a vestage of the prior century, when popular (mythical) cartography showed a near continuous land bridge from the Straits of Anian to Japan. The Pays de Moozemlek is shown to the East of the Straits of Anian, a myth which would become very popular in the early 18th Century and would combine with Lahontan's mythical river to dominate the landscape of the region in the first part of the 18th Century.
Includes two beautiful allegorical cartouches, including a title cartouche, flanked by two Native Americans and large vignette at bottom showing explorers seated around a table, natives worshiping in a temple, and a battle. Latin text enclosed in the cartouche discusses the explorations of Columbus, and Catholic missions.
Condition Description
Old Color. Minor toning and a bit of soiling.
Adam Friedrich Zurner Biography
Adam Friedrich Zürner (15 August 1679 – 18 December 1742) was a German Protestant priest, cartographer and the head of construction of the Kursächsische Postmeilensäulen in Saxony.
Zurner's first project of note was a map of Saxony, for which he was retained by August III, King of Poland, in 1711.
Zurner was appointed Geographer of Poland and the Electorate of Saxony, a position in which he served until 1732. In this time period, he reportedly traveled nearly 18,000 miles and created over 900 maps.
In 1721, he was tasked with establishing a postal road system in Saxony and marking the distances with stone posts.
His work resulted in the Atlas Augusteus Sauronicus (40 maps plus key sheet), which remained incomplete until after Zurner's death, but was ultimately sold to Pieter Schenk in Amsterdam in about 1745. Schenk's completed work (49 maps, published in Amsterdam and Leipzig) was issued without reference to Zurner's name, under the title Atlas Saxonicus.
Despite his prolific work product, none of Zurner's original manuscript maps seem to survive.