The item illustrated and described below is sold, but we have another example in stock. To view the example which is currently being offered for sale, click the "View Details" button below.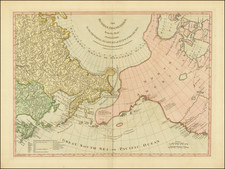 1775 Robert Sayer
$ 975.00
Description
First English edition of Muller's map of the NW Coast of America and NE Coast of Asia, based upon reports from J.N. De L'Isle in St. Petersburg and others. Includes a massive conjectural land mass approximating the Alaskan Archipelago and continuing southward with a marvelous treatment of the NW Coast, prior to Cook's arrival. The discoveries of Sir Francis Drake, Martin D'Aguilar, Juan De Fuca, Admiral De Font, Tschrikow, Bering and Gwosdew are all noted, as is the massive River of the West, flowing straight from the Oregon Coastline to Lake Winnigon and the on the Hudson's Bay via Nelson River and other unnamed Rives. The tracks of Bering and Tschirikow are noted, as are the Russian Voyages of Ye Cossack Schestakows and Pawlutzki. Bagrow (Russia) p.171; Wagner (NW) #650. Issued in Jeffreys American Atlas. A fine example with nice wide margins.
Robert Sayer Biography
Robert Sayer (ca. 1724-1794) was a prominent London map publisher. Robert's father was a lawyer, but his older brother married Mary Overton, the widow of prominent mapmaker Philip Overton and the proprietor of his shop after his death. Mary continued the business for roughly a year after her marriage and then, in early 1748, it passed to Robert. Robert became a freeman of the Stationers' Company later that year; his first advertisement as an independent publisher was released in December.
Sayer benefited from Overton's considerable stock, which included the plates of John Senex. In the 1750s, Sayer specialized in design books and topographical prints, as well as comic mezzotints. In 1753, he, along with John Roque, published a new edition of Thomas Read's Small British Atlas, the first of several county atlases that Sayer would publish.
Sayer's business continued to grow. In 1760 he moved further down Fleet Street to larger premises at 53 Fleet Street. In 1766, he acquired Thomas Jefferys' stock when the latter went bankrupt. In 1774, he entered into a partnership with John Bennett, his former apprentice. The pair specialized in American atlases, based on the work of Jefferys. They also began publishing navigational charts in the 1780s and quickly became the largest supplier of British charts in the trade.
Bennett's mental health declined, and the partnership ended in 1784. As Sayer aged, he relied on his employees Robert Laurie and James Whittle, who eventually succeeded him. He spent more and more time at his house in Richmond. In 1794, he died in Bath.