Introduction:
The Ottoman Empire spanned three continents and six centuries. At its height, it stretched from the gates of Vienna, across Hungary, the Balkans, Greece, parts of Ukraine, much of the Middle East, and North Africa west to Algeria.
The empire was founded by Osman I, a nomadic Turkmen leader from whose name the word Ottoman is derived, in ca. 1300. Until 1481, the Ottoman Empire almost continually expanded. In 1453, their forces captured Constantinople, renaming it Istanbul and ending the millennium-old Byzantine Empire. By 1517, they had control over Syria, Arabia, Palestine, and Egypt. The peak of the empire came under Suleiman the Magnificent, in the mid-sixteenth century, when most of Eastern Europe was added to their domains.
Suleiman also oversaw the creation of a uniform system of law and ruled during a flourishing of the arts. Ottoman scholars were leaders in mathematics, astronomy, philosophy, geography, and other fields. As just one example, in medicine, they invented forceps, catheters, scalpels, pincers, and lancets.
From the fourteenth to the seventeenth centuries, the devshirme system helped to provide trained statemen and officials to the expanding polity. Christians were required to give up twenty percent of their children to the state. These men converted to Islam and were classified as slaves. This status did not prevent them from gaining wealth and power; those who worked for the government and military ascended to the highest echelons of their professions. The Janissaries, the Ottoman's elite military unit, were largely made up of these forced converts.
Despite these forced conversions, many scholars characterize the Ottoman Empire as one of regional stability and relative tolerance. As they spread, the Ottomans found themselves ruling over a diverse array of peoples with different customs, religions, and languages. Rather than widespread conversion and assimilation, the Ottomans allowed people to maintain their customs and languages. Major religious groups were allowed to create millets, or limited self-governing communities that were protected by the sultan. Some millets paid taxes, while others were exempt.
From the seventeenth century, the Ottoman Empire began to contract, although it was still a dynamic and innovative political and social body during the subsequent centuries. They were defeated at the Battle of Vienna in 1683. In 1830, Greece won its independence, while in 1878, the Congress of Berlin declared Romania, Serbia, and Bulgaria independent. By the end of WWI, the Ottoman Empire was disbanded, with territories split between the Allied powers. Anatolia, the heart of the Ottoman Empire, became the Republic of Turkey in 1923.
---
Place/Date:
Amsterdam / 1606 circa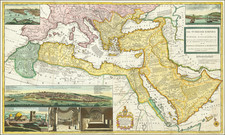 Place/Date:
London / 1730 circa
---
Archived