Introduction:
Washington Territory was an offshoot of the Oregon Territory to the south. At the Convention of 1818, negotiators from Britain and the United States decided upon a joint occupation of the land west of the Continental Divide and between the 42nd and 49th parallels. This treaty was to last for ten years before being re-negotiated, but Britain asked for a review in 1826. This began twenty years of consultations and discussions that eventually ended in 1846, when the powers agreed a treaty that created the Oregon Territory. The borders of the territory were finalized in 1848.
The new territory was more densely settled south of the Columbia River. The area north of the river was called Northern Oregon and was split into two giant counties, Lewis and Clark. In 1851, the territorial legislature also added Thurston, Pierce, King, and Jefferson counties. By 1854, only 4,000 settlers lived in Northern Oregon, but they were beginning to feel alienated from their southern neighbors.
Far from the territorial seat at Salem, Northern Oregon residents and businessmen met at Cowlitz Landing in August 1851. They requested that Congress create a new territory, Columbia, to represent their interests. Congress largely ignored the Cowlitz Convention, but a second effort in November 1852 at Monticello (Longview) was more successful. The governor of Oregon Territory supported their congressional petition, arguing that the few residents of the new territory would be balanced by the vast commercial potential of Puget Sound.
Congress created the Washington Territory on March 2, 1853. They altered the name from Columbia to Washington ostensibly to honor the nation's first president, but more practically to avoid confusion with the District of Columbia. Initially, the territory encompassed what is now Idaho and parts of Montana and Wyoming. However, Idaho Territory was founded in 1863 after gold was discovered there and Washington legislators feared their capital would have to shift east of the Cascades.
The population of the territory grew slowly but surely, especially west of the Cascades, where industry boomed. Seattle became an important port city. However, Washington did not become a state until 1889, while Oregon was admitted to the Union in 1859. The delay was due to a hiatus on statehood applications at the federal level after 1876, when Colorado was admitted. Finally, in 1889, Congress passed a bill allowing Washington, North Dakota, South Dakota, and Montana to seek statehood. Washington became the 42nd state of the USA on November 11, 1889.
---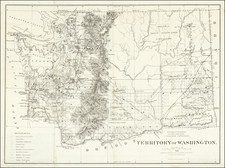 Place/Date:
Washington / 1876
---
Archived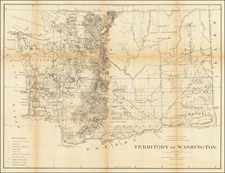 Place/Date:
Washington / 1876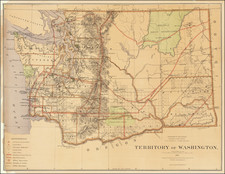 Place/Date:
Washington / 1876
Place/Date:
Washington / 1876