Introduction:
Several mid-17th century maps show Drake's Bay in Northern California and indicate that the port was popularly referred to by the name of St. Francis. For maps created before Gaspar de Portola's supposed 1769 discovery of San Francisco, this raises questions. An analysis of primary sources, including the voyages of Drake, Somenho, Portola, and others, and the maps by authors such as Brigg and Muller, answer some, but not all, questions.
The Drake voyage to California has taken on mythical proportions, repeatedly becoming politicized in the early days of a state which was grasping for an Anglo-centric story of origination. Drake discovered "New Albion" (northern California) during his 1577-1580 privateering circumnavigation. After claiming to have reached 48 degrees north, which would have placed Drake nearly at the entrance of the Salish Sea, Drake was forced to turn the Golden Hinde southwards due to unfavorable winds. His crew spent a month harbored at a good bay supposedly at 38º 30', during which he interacted extensively with the indigenous peoples.
The description for this bay is unusually vague in primary sources of the voyage. In his The World Encompassed, Drake spends twenty pages discussing the many days spent at this bay, but provides few indications of where this spot might actually lie. Two of the only hints in this passage mention that "Not farre without this harborough did lye certaine Ilands (we called them the Illands of Saint James) having on them plentifull and great store of Seales and birds..." and "This country our generall named Albion [an alternative name for Great Britain, with the same root as the Gaelic Alba], and that for two causes; the one in respect of the white bancks and cliffes, which lie toward the sea...."
Using these two pieces of information, alongside the latitude given and the indigenous practices described, which appear to suggest that Drake encountered the Coast Miwok peoples, it has been accepted that Drake landed slightly south of Point Reyes. While this debate is far from resolved (with arguments that Drake arrived in various bays from Washington to even Alaska), it is unlikely that Drake discovered the San Francisco Bay proper, as his text never mentions an inland port.
Drake's was not the only voyage to the region in the late 16th century. Sebastião Rodrigues Soromenho, the Portuguese explorer made landfall at Drake's supposed location. A Spanish Galleon sunk at the site, leaving definitive proof of Soromenho's location. He named the bay San Francisco. Curiously, Soromenho had been sent north to search for a large inland body of water in the area, rumors of which had already reached the Spanish.
Drake's Bay appeared on maps at some location north of Monterey throughout the next century and a half, labeled, for example, as "P. du. S. Fracisque Drac." This can be traced back to Brigg's 1625 America Septentrionalis, with his depiction of California based on "a Spanish Charte taken by ye Hollanders." It is likely that Briggs renamed the bay after Drake in his remapping, though whether this was done erroneously or consciously is unclear. It may be to this false name that the present chart refers.
It is commonly accepted that Juan Crespi named the San Francisco Bay after St. Francis of Assisi, the founder of his order. However, surviving documents are few which describe the earliest days of European exploration in the bay. It was also believed by explorers that the native population had seen European ships in the harbor prior to Portola's arrival, which was why they went to the bay in the first place. These many lines of evidence make one wonder if the name of San Francisco, transliterated from the name of Sir Francis Drake, was already in use regarding the bay prior to 1769.
---
---
Archived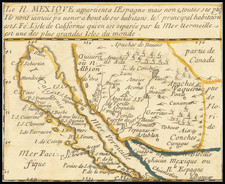 Place/Date:
Paris / 1656 circa (1661)