Introduction:
Henri Abraham Chatelain first published his Atlas Historique in seven volumes from 1705 to 1720, targeted at an audience eager for all types of information. Particularly focused on geography, Chatelain also touched on cosmography, geography, history, chronology, genealogy, heraldry, and much more. Several volumes would be reprinted until 1739.
Many of the maps Chatelain uses were based on the work of the French cartographer, Guillaume de L'Isle. Other plates were based on the most extensive contemporary travel accounts, including those of Dapper, Chardin, de Bruyn, and Le Hay.
A major focus of the work regards newly colonized lands, which wealthy Europeans were eager to learn more about. His plates and text describe the way of life in these faraway lands, with parts of the work devoted to the Americas, Africa, the Middle East, Mongolia, Indonesia, and much more. Chatelain did not neglect European subjects, describing them in detail as well.
Several plates from the work are particularly renowned, especially Chatelain's fascinating map of the Pacific and the Americas, which shows the Island of California, Korea, Japan, and many other places in intriguing detail alongside extensive text and annotations. In addition, Chatelain's title pages are attractively designed, as are the maps he uses.
There is some debate as to the identity of the compiler of the atlas, described only as Mr. C***. Recent scholarship suggests this might, in fact, be Zacherie Chatelain, not Henri Abraham Chatelain.
---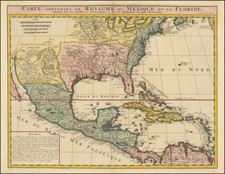 Place/Date:
Amsterdam / 1719
---
Archived