Introduction:
In 1739, resentment over Spanish raids of British ships in the Caribbean sparked the War of Jenkin's Ear, which would widen into the larger War of Austrian Succession. The Commissioners of the British Admiralty planned a global strategy to harass Spanish trade and weaken its over-stretched navy and merchant marine. Anson's voyage was part of this strategy. He set out in 1740 with a squadron of six ships and 1,900 men.
By 1743, Anson had crossed the Pacific after raiding the west coast of South America. Prior to crossing he had waited off the Mexican coast for the Acapulco galleon, full of silver, to appear, but he only succeeded in blocking the ship from leaving port. Meanwhile, he had also lost five of his ships and 1,400 of his men, primarily to scurvy; only his own ship, Centurion, remained intact.
After repairing at Macao, Anson let Chinese officials know that he was headed for Britain; in reality, he sailed to the Philippines to await the entrance of the Acapulco galleon. Remarkably, considering the voyage prior to that point, the Centurion took the Nuestra Señora de la Covadonga with only light casualties.
The publication of the Voyage round the World
Anson returned home rich and quickly became famous as well, a bright spot in an otherwise dismal war devoid of triumphant victories. Named a Commissioner of the Admiralty, Anson set about arranging the publication of his experiences in the Pacific. The work was written by the Centurion's chaplain, Richard Walter, and Benjamin Robins, a Fellow of the Royal Society and a military engineer. It took four years to compile Anson's and his officer's papers and a Voyage round the World finally debuted in May 1748.
The account was immensely popular; it was published in quarto with 42 plates, while a simultaneously published octavo edition, with only three plates also flooded book sellers' shops. The charts for the account, three in all, were engraved by Richard William Seale. Among other clients, he engraved for the Universal Spectator, in which the Anson expedition was serialized after it returned in 1744.
The Anson account was one of the bestsellers of the eighteenth century; it appeared in at least sixteen editions in the eighteenth century alone. It was also published in several languages, including Dutch, French, German, Russian, Italian, and Swedish.
---
---
Archived

Place/Date:
Amsterdam / 1750 circa

Place/Date:
Amsterdam / 1750 circa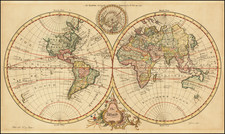 Place/Date:
London / 1752