Introduction:
The area around the Yellowstone was only first properly explored by white Americans during the Cook-Folsom-Peterson Expedition of 1869. They reported seeing wonders that fascinated people back east. Ferdinand V Hayden was sent by the government to explore the area properly in 1871.
The movement to create parks set aside for public enjoyment started in California, with work by John Muir and contemporaries to preserve Yosemite, Sequoia, and Kings Canyon. These were all made state parks. The movement to do something similar in Yellowstone started almost as soon as the first reports came back. The park was established in 1872, but due to lack of a state government, it was under the federal umbrella, thus a national park.
Poaching was a major issue during the first years of the park, and would only be resolved by the arrival of the US Army in 1886. The army had made a previous short visit in 1877 while pursuing Chief Joseph's Nez Perce tribe, which had taken several tourists captive.
The popularity of the park would continue to grow over the next hundred years, and it remains one of the best-known American national parks today.
---
---
Archived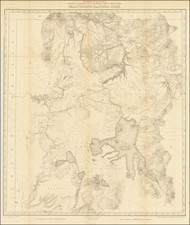 Place/Date:
Washington / 1878