Introduction:
Georg Braun and Frans Hogenberg began the process of creating a comprehensive atlas of the cities of the world in 1572. Their book, Civitates Orbis Terrarum, was originally intended as a companion to Abraham Ortelius's Theatrum Orbis Terrarum, the first true atlas.
The great atlas was edited by Georg Braun, with Franz Hogenberg engraving many of the views. When the project was finished, the series would contain over 546 views (sometimes with multiple views on a single plate).
Civitates Orbis Terrarum includes the work of over 100 artists and topographers, perhaps most notable among them was the superlative talent of Joris Hoefnagel (1542-1600). He provided original drawings of Spanish and Italian towns, as well as reworking and improving the town drawings of other artists. After Joris's death, his son Jakob continued the project.
The Civitates provides an incredibly comprehensive view of urban life in the late 16th century. Many of the views in these volumes are the earliest of their respective towns -- either absolutely, or they are predated only by impossible rarities, as in the case of London. Cities portrayed range from the great capitals of Europe, Asia, Africa, and the Americas to small Swiss hamlets and other tiny villages. As such, this singular and indispensable source for understanding the early modern world.
The work was published in six volumes, each of which contained approximately sixty plates. The subject matter of each plate varied widely, it could provide a single view of a city, two views of the same city, or views of up to nine different cities. The range of designs is extensive, and it is interesting to compare the variety between views of the same city by two different authors.
---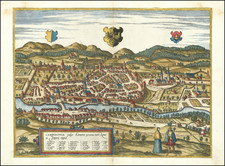 Place/Date:
Cologne / 1572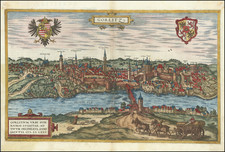 Place/Date:
Cologne / 1575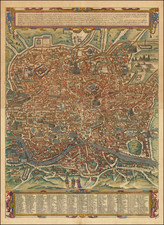 Place/Date:
Cologne / 1588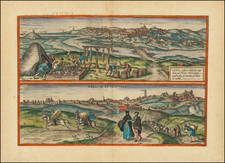 Place/Date:
Cologne / 1593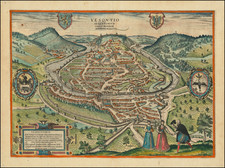 Place/Date:
Cologne / 1593 circa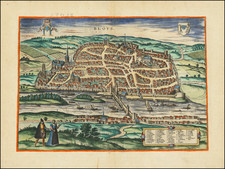 Place/Date:
Cologne / 1593
Size:
17.25 x 12.25 inches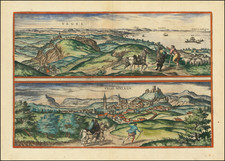 Place/Date:
Cologne / 1593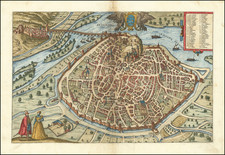 Place/Date:
Cologne / 1593 circa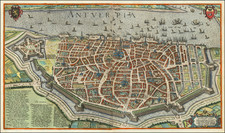 Place/Date:
Cologne / 1596 circa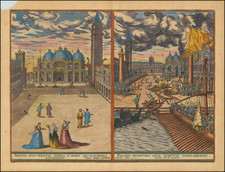 Place/Date:
Cologne / 1598 circa
Size:
19.25 x 14.25 inches
Place/Date:
Cologne / 1617
---
Archived