Introduction:
The Lunar Orbiters were a series of five unmanned spacecraft which undertook detailed mapping of the moon in 1966-1967. By taking thousands of photos over five missions, the surface of the moon was able to be mapped down to a meter scale. This would allow for both increased scientific understanding of the moon, as well as helping to identify possible landing sites for the Surveyor and Apollo missions.
The orbiters were the result of a joint bid between Boeing and Eastman Kodak. The Air Force was originally planned to take charge of the imaging operation, but concerns over the classified nature of their camera specifications led to lower-resolution, privately-designed, cameras being used. These ended up working well in part due to an ingenious focusing mechanism, and ninety-nine percent of the surface of the moon, including the dark side of the moon, was successfully mapped.
The orbiters not only provided visual information but also gravitational information. Doppler tracking of the orbiters allowed for gravity anomalies over maria to be measured, allowing for a better understanding of the moon's gravitational field. These measurements showed that both Airy and Pratt isostasy were important on the moon, meaning that topography was both due to compositional and mass differences.
The first three missions focused on surveying the sites for the Apollo landing missions, while the last two focused more on completing the lunar mapping mission. Lunar Orbiter 2 would be the first to photograph the Sea of Tranquility, the landing site for Apollo 11. Each orbiter crashed on the moon several months after its mission ended.
---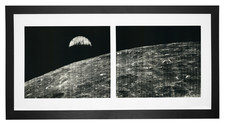 Place/Date:
n.p. (Seattle?) / 1966
Size:
45 x 19 inches (both sheets as one)
---
Archived