Introduction:
Typically, mapmakers thought the Nile River rose from twin lakes south of the equator, which were near the Mountains of the Moon. Streams from the mountains fed the lakes. Ptolemy describes such a lakes-and -mountains layout in his works, although the precise identification of the Mountains of the Moon may have been a fourth century addition to his text.
Sixteenth century mapmakers, including Waldseemuller, chose to follow the Ptolemaic model. This was typical of cartographers at the time, who had abandoned Ptolemy's coastlines in favor of the more recent Portuguese outlines yet who also clung to Ptolemaic place names for the interior of Africa well into the nineteenth century.
Giacomo Gastaldi, most likely thanks to sources he read via the travel writer Ramusio, chose to abandon the Mountains of the Moon entirely in his 1564 map of Africa. Instead, he drew a massive central lake from which flows the Nile, Zaire (Congo), Cuama (Zambezi), and Spirito Sancto (Limpopo) Rivers. To the east is another, smaller lake at roughly the same latitude, which also feeds part of the Nile. Therefore, Gastaldi created an entirely different view of the interior of Central Africa, while still embracing Ptolemy's twin lakes theory.
In Ortelius' Africa map included in the original 1570 Theatrum, he also included a large central lake, called Cafates. He rejected the name of Zaire-Zembere used by Gastaldi. To the east and just slightly north was another, smaller lake. Rivers from the north of both lakes wend northward and join to form the Nile. The Zaire (Congo) flows from the northeast of Lake Cafates, while the Zuama (Zambezi) exits at the south of the lake. It branches into the Spiritu Sant, or the Limpopo.
In his regional Prester John map, however, Ortelius has brought back the Mountains of the Moon. The Nile still branches from two lakes, but the larger of these is now called Zaire, as it had been with Gastaldi. Clearly Ortelius continued to review sources between drafting the Africa map and the regional map. Mercator and later mapmakers followed mainly in the two-lake model, including iterations of the Mountains of the Moon for centuries.
---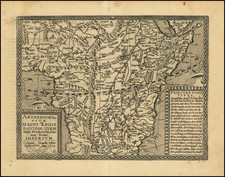 Place/Date:
Cologne / 1600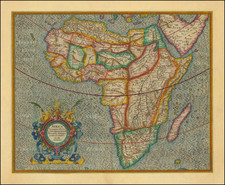 Place/Date:
Amsterdam / 1620 circa
Place/Date:
Amsterdam / 1640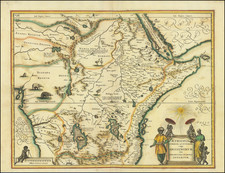 Place/Date:
Amsterdam / 1657 circa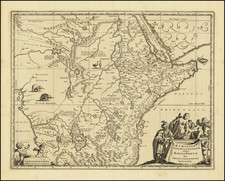 Place/Date:
London / 1670 circa
Size:
14.5 x 11.25 inches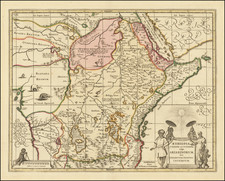 Place/Date:
Amsterdam / 1694 circa
---
Archived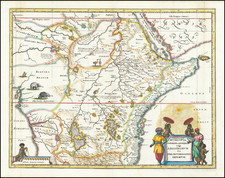 Place/Date:
Amsterdam / 1650 circa